Mobile applications for loyalty programs
This text provides an overview of the role and a comparison of the functionalities of mobile applications used in B2C loyalty programs in the food retail sector.
9
This analysis includes 12 of the largest loyalty programs run by food chains operating in Poland, including: Auchan, Biedronka, Carrefour, HitPol, E.Leclerc, Lidl, Piotr i Paweł, Polomarket, Spar, Topaz, Tesco and Żabka. Payback, as a multi-partner programme, has been deliberately omitted in the summary to ensure that the analysis is methodologically consistent.
Commercial networks included in the analysis. When it comes to listed companies, Topaz and Hitpol do not have a mobile application, whereas the application used in the Payback program implemented by Kaufland, for example, was deliberately omitted because it has multiple business partners.
The following issues are discussed in the text below:
Participation in loyalty programs in Poland.
Which loyalty programs are based on mobile applications?
The role and use of mobile applications in loyalty programs.
Mój Carrefour application: case study.
Benchmark: programs in mature markets.
Participation in loyalty programs in Poland.
The study "Monitor Programów Lojalnościowych 2019" ("Monitoring of Loyalty programs 2019"), conducted by the research institute ARC Rynek i Opinia, shows that 59% of adult Poles declare that they participate in loyalty programs. When it comes to the declared level of participation, the most popular programs in Poland include: Moja Biedronka – with 28% of participants (percentage of the general population), Payback and Club VITAY – with 14% of participants each, the most frequently cited Payback partners in Poland being Kaufland and BP.
The forefront includes two other loyalty programs run by food retail companies, i.e. Tesco Clubcard, Lidl Plus, Auchan Skarbonka and Carrefour Rodzinka/Mój Carrefour.
Participants of the food retail loyalty programs are mostly women (68% of participants), which amounts to 8 points more than in all B2C loyalty programs in general. The largest age group is between 26 and 65 years old.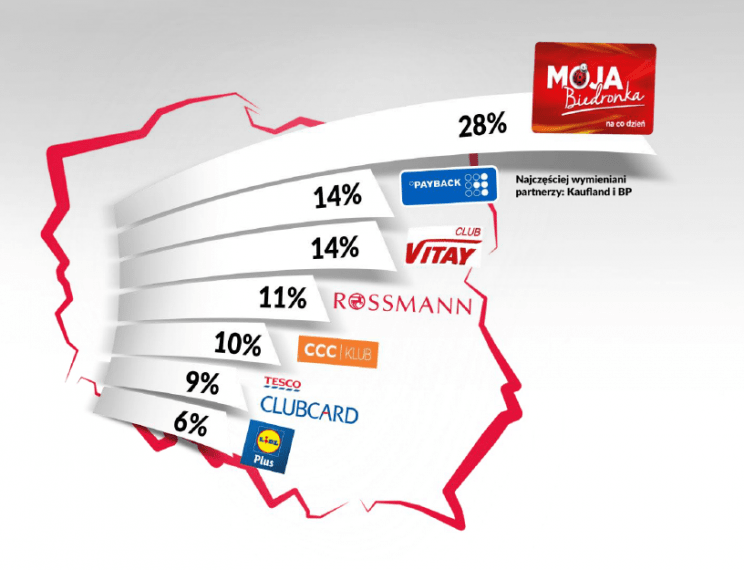 Own elaboration based on the "Monitor Programów Lojalnościowych 2019" report. Results of syndicate research, 9th edition, August 2019, ARC Rynek i Opinia.
The role and use of mobile applications in loyalty programs
It is for this group that mobile applications used in loyalty programs are prepared. As much as 72% of participants declare that they use such applications, and this percentage rises as the age of respondents decreases, which is not surprising. It is interesting that mobile applications are more frequently used by women (76%) than men (67%). The percentage of the declared use of mobile applications dynamically increases from year to year. In 2016, it was 38%, a year later 53%, and in 2019 – 60% (on the basis of historical reports in "Monitor Programów Lojalnościowych" from previous years).
The main arguments for applications are that users do not need a plastic card; they receive notifications about current promotions and have a possibility to quickly check their account balance and transaction history. In practice, applications are also used to check current special offers and use discount coupons.
Having a mobile application has already become a standard in this market segment. The organisation of a loyalty program without an application, as in the case of "Program Dobrego Klienta" run by Hitpol, demonstrates a lack of understanding of market trends and consumer needs.
The role of mobile applications
In general, mobile applications play one of two roles. They can be the main and only medium for the implementation of a program; in this case, the organiser does not offer plastic cards and users cannot access their accounts on a website. In other words, participation in the loyalty program entails using the application. Such is the case of Żappka, Lidl Plus and Polokarta. Alternatively, mobile applications can serve as a medium to support the use of the loyalty program, as is the case of Moja Biedronka or Mój Carrefour. In these programs, the mobile application is one of many ways in which the loyalty program can be used, and it serves as a tool for making the program more attractive. In the latter group, it is possible to participate in the program without using the mobile application.
Organisers have included the following functionalities in their applications
Virtual card or Participant ID;
Current promotions – a repository and distribution of electronic discount coupons and leaflets;
"Your account" section;
Balance of points;
Geolocation of points of sale and of the participant's smartphone;
Purchase history;
Online order platform;
E-payment module;
Communication via push messages;
Gamification and promotional module:
– e.g. virtual scratchcards in the Lidl Plus program;
– virtual "Your stickers" in Mój Carrefour program;
Special sections:
– e.g. Scan&Go in Mój Carrefour program;
– integration of cards from other programs in one application, e.g. Karta Rodzinka and Karta Seniora in Mój Carrefour;
– price reader, shopping list and sales of lottery tickets in Mój Carrefour;
The above list includes the functionalities of all loyalty programs in the food retail sector. Therefore, none of the discussed mobile applications include all of the above-mentioned functional modules.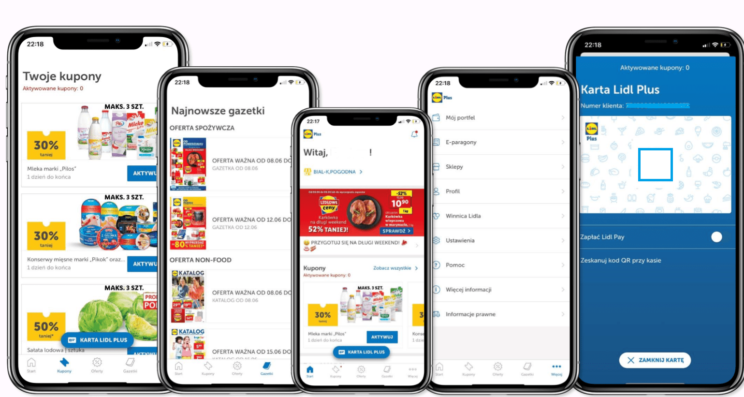 Lidl Plus mobile application, which offers an e-payment module similarly to Żappka (which introduced its Żappka Pay module on 28 June) and Mój Carrefour (which is integrated with Mastercard Masterpass).
Mój Carrefour mobile application: case study
Carrefour runs a number of loyalty projects, including Mój Carrefour program, Karta Rodzinka and Karta Seniora. It offers both plastic (the latter two) and virtual cards (as part of Mój Carrefour). You can register in Mój Carrefour by filling in the application form in the mobile application, but the scope of data collected is limited to the minimum. In practice, it is also possible to leave a completed paper form in a store or call the helpline to register.
Identification at the checkout is done by presenting a card with a bar code. In this program, you earn points and receive discounts. Points are collected for your purchases, and the number of points depends on the value of your cart. 1 point is granted when you spend up to PLN 10. For every PLN 10 more, you get 3 points. When you collect 600 points, you get a discount coupon worth PLN 10, which you can redeem with your next purchase. In the application tab which gives you access to your virtual card, you can also add a plastic card (by scanning it or entering its number). It applies to Karta Rodzinka, Karta Seniora and Karta Pracownicza.
The functionalities of the mobile application include:
"Benefits and promotions" section which is used to store and distribute:
– discount coupons;
– e-vouchers;
– leaflets.
"Store purchases" section:
– virtual card;
– store finder
– price reader
– Scan&Go functionality
– shopping list maker
– mobile payment section
– sales and selection of lottery tickets
"Online Purchases" section, which takes you to the website
"Information" section:
– Financial Services;
– Terms & Conditions;
– Privacy Policy;
– Contact;
– Report a problem;
– Rate the application;
– Recommend the application;
– Log out;
"Recommended offers" section, which includes guides (the user is taken from the application to the website), leaflets (with the possibility of looking through them in the application in a mobile-friendly form) and discount coupons.
An interesting feature is the "Last used" section, which remembers the tabs that have been recently used. To make full use of the application, you need to give it access to the camera (to scan product barcodes and get to know the price) and give your permission for the application to use to your smartphone location (because discount coupons are assigned to particular stores)
The application informs you about the possibility of online shopping, but then it takes you directly to the website. Moreover, the e-payment module is actually integrated with the Masterpass service offered by Mastercard.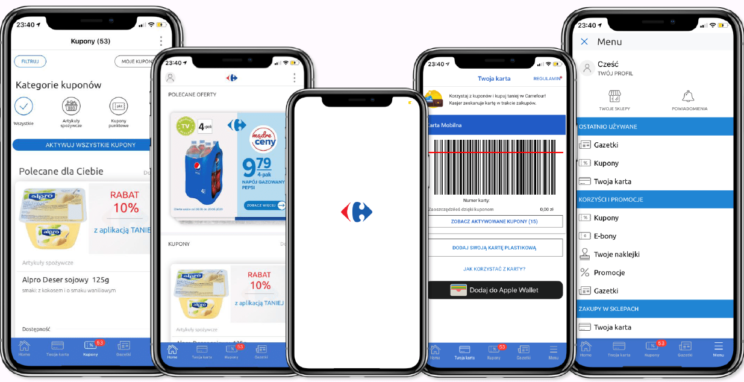 Mój Carrefour mobile application.
Benchmark: programs in mature markets.
I have recently described two interesting case studies of loyalty programs in the United Arab Emirates, i.e. Club Apparrel and SHARE, which was implemented in Carrefour, among others. In comparison to loyalty programs in Poland, programs from mature (richer) markets put much more emphasis on the elements of gamification, participation statuses and lifestyle prizes. In Poland, the principles of loyalty programs and their mobile applications are mostly of a functional character and offer benefits in the form of discounts, which is preferred by households in developing countries, whose average monthly income differs significantly from Western Europe, the United States or the Middle East.
At i360, we support a number of loyalty programs. We also continuously monitor all significant programs on the Polish market and selected foreign markets. This also applies to the food retail sector. We share our experience with our clients and blog readers.
If you are interested in implementing a loyalty program or checking how i360 can improve your program with regard to its procedural, legal, tax, logistic or performance aspects, feel free to contact us.

Contact us to learn more.
We know everything about loyalty programs.


Tomasz.Makaruk@i360.com.pl


22 331.09.97
9