We live in an perfect society. Our personal data is protected by GDPR and the Omnibus Directive helps us to keep common sense while shopping. Chat GPT, Midjourney and Github Copilot make our professional life easier as we can entrust them with an increasing range of tasks.
This text a brief insight, an introduction to the "Loyalty Programs Monitor 2023" survey report prepared by the ARC Rynek i Opinia Research Institute.
With a Tesla in self-driving mode we can get to a shopping center without touching the wheel and even the most basic car model can be entrusted with self-parking. This is all thanks to Nvidia H100 processors whose unit price exceeds the cost of a studio in a quite few locations. Last but not least, blocking third party cookies and the introduction of iOS App Tracking Transparency make us believe that even global corporations such as Google or Apple care about us, so that we can take informed decisions online.
In such a perfect world resembling a Barbie Land, organizers of loyalty programs bombard us with important news, such as that "the price of chicken drumsticks is now PLN 6.99, while before the discount it was PLN 12.49" – this was a message I received while writing this text from a store chain whose loyalty program came third among the most popular loyalty programs in Poland. This was the assessment of adult Poles presented in the newest "Loyalty Programs Monitor" report which you are about to read.
Why do the loyalty programs offer mostly price-related special offers?
The retail market, especially in the food industry, knows well that the average remuneration in May 2023 amounted to PLN 7181.67 gross, which gives slightly over PLN 5,000 take-home, and as a result the majority of purchase decisions is made by Poles based on price analysis. Especially when compared with Western Europe. Although we like to have a go with the "Shakeomat" in the app of the loyalty program leader, the other mainstream programs focus on prices: we can pay 30 groszy less for the gas, get back PLN 20 as an e-coupon for "back to school" shopping, buy own-brand milk for 2.39 per liter or a second cola bottle with a 71% discount (this special offer is over, keep cool and continue reading) or claim the offer of a drugstore chain and buy paraffin wax patches for PLN 34.99, which is PLN 15 cheaper than 30 days before the discount – so that you do not miss any key top 10 loyalty programs.
Watch the interview with the authors of the survey"Loyalty Programs Monitor" ARC Rynek i Opinia at the "Evening talks about loyalty programs" (O programach lojalnościowych nocą) YT channel
Different effects of price and non-price special offers
This argument also supports the theory developed by Prof. G.J. Tellis in the 1980s, in which he claimed that price-related special offers mostly influence loyal buyers, leading to increased shopping frequency and basket value, while non-price special offers are used to attract new buyers who previously were brand consumers or did shopping in competitive store chains. One of many innovations proposed by ARC Rynek i Opinia is the distribution of demand determinants which play a major role in purchase strategies related to participation, divided into top 5 loyalty programs. As a result, the survey becomes more in-depth. This is the first time in the 13-years-long history of this survey (almost 20-years-long if we include the results of the preceding survey conducted as "BTL Monitor") when we receive a detailed, multidimensional benchmark of the key programs.
Major events on the loyalty programs market
What have been the major events on the market of loyalty programs in the last 12 months? As anticipated, the Lotos Navigator has disappeared from the market (similarly as the "Mam Bonus" program by BNP Paribas), while Kaufland has introduced its own loyalty program. A number of new loyalty programs were launched: MOL Move (MOL gas station chain), myKIK (KIK drugstore chain), Time to Riff (working in both chains – the Time Trend and Riff) as well as C&A for you (C&A chain); the latter one is being introduced in a number of countries in Europe at the same time. In Poland, it will probably be known as "C&A dla Ciebie".
Żabka has extended its portfolio of exchanging "żapps" for discounts in selected stores; "All for żapps" (Wszystko za żappsy) – a section including offers from external partners, including CCC, Decathlon, eobuwie.pl, HalfPrice, etc. Żappka app users can also get a discount for Freenow rides or scooters, or renting cars by Traficar.
We note that the links between loyalty programs and activities held by their organizers in the social media are getting stronger – not only additional points/awards for opinions/comments on the Internet, but also promoting iconic figures, as shows the example of Carrefour, which created Kerfuś with TikTok and uses it for its loyalty activities addressed to the youngest consumers.
The organizers of loyalty programs put a huge emphasis on CSR and ESG activities.
Conclusions from the Loyalty Programs Monitor 2023
The declared loyalty program participation percentage grew by 2 pp and amounts to 64%, while the average number of programs in which Poles take part increased from 2.9 to 3.3 programs. The Kaufland Card and the Hebe program joined the group of ten most popular programs. The analysis of the types of benefits from program participation shows that the popularity of point programs is still declining. There was a statistically significant decline in selecting responses including the word "points". However, highly rated functionalities emerged which make the life of loyalty program participants easier – e.g. access to shopping/transaction history or the possibility to make a return without a receipt. Please note that for this is the first time when we have noted the following opt-out reason: "To many notifications (e-mail, SMS, push from the app)". This clearly indicates that the participants of loyalty programs have growing expectations about mobile apps. Especially that the participants use the apps while shopping. more and more frequently (difference by 5 pp compared with the results from the last year)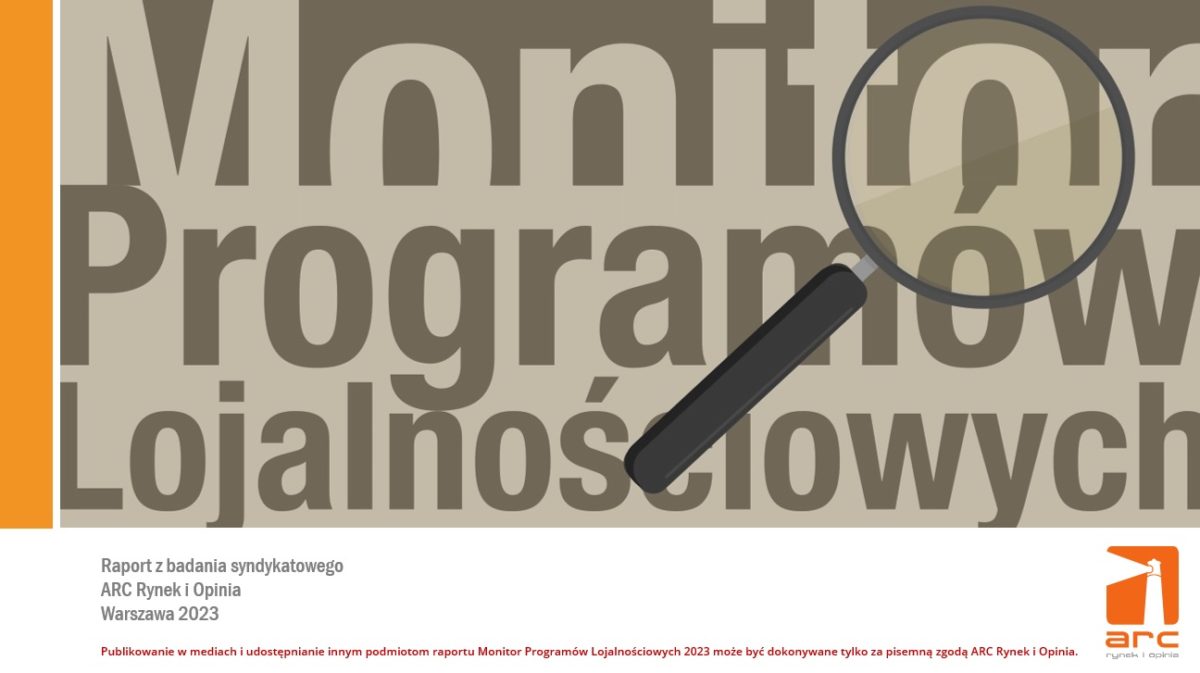 Let's talk about apps. The percentage of persons using mobile apps of loyalty programs increased by 3 pp and reached 90%. In the group aged 18–25 it amounts to 96% – and such result in quantitative studies de facto means "all". Having this in mind, the authors of the survey presented us an extremely detailed benchmark analysis of leading apps – which is another innovation in this year's edition of the survey. Personally, I am very surprised by the fact that the option to pay for the shopping on the app is still used by 22% of respondents (25% in 2022). The main counterargument is still the unwillingness to add a payment card in the app due to safety reasons.
What is worth noticing is the fact that the number of participants having their favorite program has decreased. Although it remains at a high level of 72%, a significant drop has been noted in the category of food retail programs. And now my probably favorite slide from this year's edition. It turns out that the main features of a favorite loyalty program are: attractiveness of discounts, special offers, opportunity to make savings and financial benefits – 33% of responses, and clear/easy to use app and simple rules of participation – 15% of responses. Welcome in loyalty Barbie Land.
Finally, it is worth noting that the inflow of millions of Ukrainian citizens did not impact the results, as ARC Rynek i Opinia conducts the survey only among Polish citizens.

Feel free to contact us
We know everything about loyalty programs.


Tomasz.Makaruk@i360.com.pl


22 331.09.97